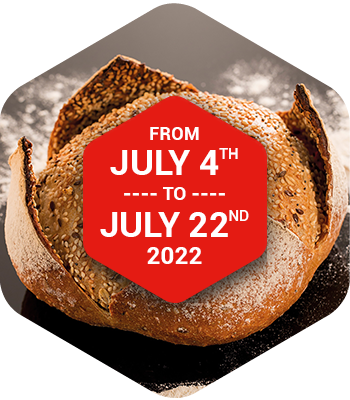 INBP Bakery and Pastry Summer Class
July 4th to 22nd, 2022
Bake like a French, in English!
For all English-speaking motivated adults, eager to discover the French art of baking in a professional way.
Enjoy a hands-on training in small groups and join our 1 to 3-week course. Benefit from more than 45 years of experience and know-how in teaching French bakery and pastry, at the famous French National Baking and Pastry Institute (INBP). Our highly qualified INBP Chefs, experts in their fields, are committed to sharing their passion for their craft in spacious and well-equipped facilities.
Both Bakery and Pastry Summer Courses will take place in our Institute in Rouen, France.
Read more
Bakery course
100% hands-on course where you will make the classics but also the new trends of French Bakery: tradition baguette, croissant, pain au chocolat, pain viennois, pain de campagne, brioche, two-toned croissant, organic bread. Complete programme available on demand.
Discover the professional baking techniques and make the different steps of the French Bakery your own. In a professional yet friendly atmosphere, learn how to shape, score as well as the different French proofing techniques and the use of French traditional flour, organic flour, sourdough, fermented dough.
Discover how various and creative the shapes of French bakery products can be, at the side of your INBP baker Chef.
Week 1 : from Monday July 4th to Friday July 8th, 2022
Week 2 : from Monday July 11th to Friday July 15th, 2022
Week 2 can only be done after completing week 1
Pastry course
100% hands-on course where you will make the classics of the French « Pâtisserie » but also classics « revisited » and modern innovative products.
Your INBP Pastry Chef, expert in his field, will have at heart to teach you the different techniques of French Pâtisserie like lining, piping, glazing, decorating. Learn the different French dough techniques like puff pastry, choux pastry as well as the various creams and fillings of the French Pâtisserie.
In one week, how to make tarts, individual gâteaux, cake, modern entremets, macaroons, éclairs, saint honorés, cannelés will have no more secrets for you. Complete programme available on demand.
From Monday July 18th to Friday July 22nd, 2022
Organisation
Admission requirements : our Summer Classes are opened to all English-speaking adults (+18), amateurs or professionals, who are eager to learn about French Boulangerie-Pâtisserie.
Timetable : From Monday to Friday: 7 hours of training per day (total of 35 hours per week), from +/- 8:30 AM to +/- 4:30 PM with one-hour lunch break
Language : English
Location : INBP, 150 Boulevard de l'Europe, 76 100 Rouen, France
Facilities : inside a three-storey building of 4.800 m² dedicated to culinary arts: professional laboratory, locker room with shower, dedicated trainee's entrance with badge, access to the first documentation centre in France with more than 4.000 books on the sector.
Included :
Professional laboratory equipment and material
Teaching material: recipe book in English
Lunches
Option :
Accommodation: the INBP Residence Hall is located just across the street, with fully equipped flats (kitchen area, shower, desk). Booking via our International team only.
Other accommodation options available on demand.
Professional clothes: you can come with your own professional clothes or you can order INBP professional outfits (T-shirt/trousers/shoes).
Registration: before May 14th, 2022